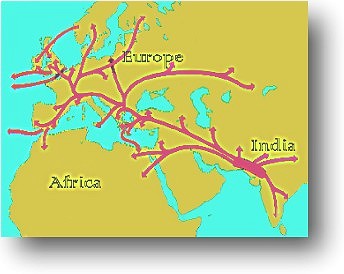 Orient Express
On the Trail of the Gypsies
If you're looking for music that is romantic, exciting and unusual - look no further. Noted ethnic music specialist Sheldon Brown (Klezmorim, Omar Sosa) joins Santa Rosa Symphony principal trumpet Doug Morton, principal bass Randy Keith and principal percussionist Allen Biggs in the group Orient Express, performing music tracing the Gypsy Diaspora through Eastern Europe, the Balkans, Greece, Bulgaria, Turkey and Israel - with side-trips to South America and the United States.

This is music you may never have seen performed live. Orient Express takes you on a guided tour from the Gypsy's (Roma) origin in India a thousand years ago and demonstrates how musical elements developed in India have carried forward through hundreds of generations of these nomadic tribes intermingled and cross-fertilized with all the music of all the lands they have travelled through. Time signatures such as 13/8 and odd groupings of beats, along with exotic scales and harmonies, and very rapid tempi - combine for a rapturous musical experience.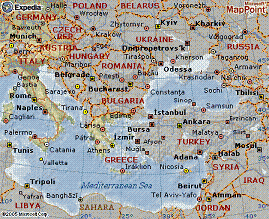 You will be amazed by the virtuosity and dexterity required by this music and delivered by Orient Express. We take the listener on a guided tour of this uncommon music, dissecting the form and structure into its components and putting these together in performance, enriching the experience. We also discuss the various cultures and speculate as to why this music developed the way it did. Folk music springs from the people and is a spontaneous and unplanned outgrowth of their daily lives. "Gypsy" music, derived from the rich culture of India, is spectacularly interesting, as its DNA has been altered by every culture and experience they have had in the thousand years since the first caravans left India.
I was transported. Susan Vick, Venue, St. Helena (October 9th concert).

Mesmerizing progam last night! We all loved it! Pam Chanter, Santa Rosa Symphony
I've never seen these kids so quiet and attentive. Teacher, Roseland University Prep in Santa Rosa (September 23rd in-school demo)
On our end, your performance went down as on of the best we have offered. Of particular note was how you showed great interest, depth and humor in describing the trail of the gypsies. And then you guys delivered 'fabulous music. And the 'Finnish' encore cracked us all up.
So here is what we learned from the concert:
Keep it intimate. It was kind of neat that we ran out of chairs and had to pack the folks in. I think that added to the evening.
The educational aspects of the dialogue really turned our sophisticated audience on,
The choice and variety of music maintained a very high level of interest, and
The quality of the musicians was outstanding.

Allan Grosch, Sonoma Valley Art Museum (October 14th concert)
---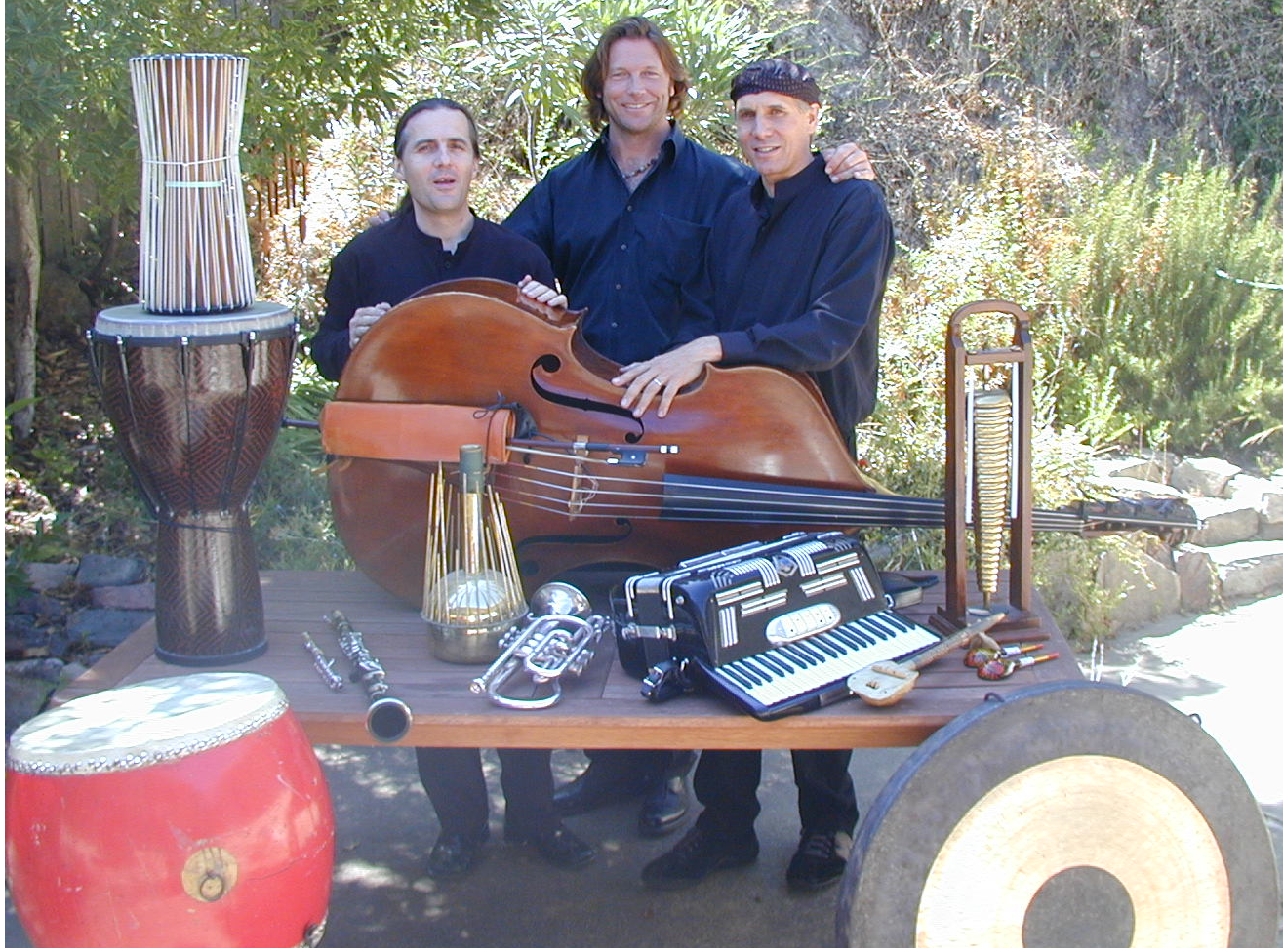 Take a journey Around the World in 90 Minutes with Orient Express. Hear the most amazing 'folk' music you've probably never heard before. Noted ethnic music specialist Sheldon Brown (Klezmorim, Omar Sosa) joins Santa Rosa Symphony principal trumpet Doug Morton, principal bass Randy Keith and principal percussionist Allen Biggs as they host a guided tour to fascinating music from Eastern Europe, the Balkans, Greece, Turkey and Israel - with side-trips to South America ' Argentina, Brazil - and the United States.
Point of Departure - Dave Brubeck's Blue Rondo a la Turk. This popular odd-metered piece is based on Turkish folk melodies. We will take a typical Turkish song and break it down to its basic elements to explore what might have inspired Mr. Brubeck. Then over to Greece to hear a comparable but quite different song. We'll follow the Gypsy caravans up into Eastern Europe and sample some of their music, esp. the wild and wooly Bulgarians ' who have somehow developed a folk music which is the most complex and virtuoustic folk music imaginable. We will play some touching Klezmer wedding music and point out its unique and common features, and speculate as to the how's and why's of its evolution.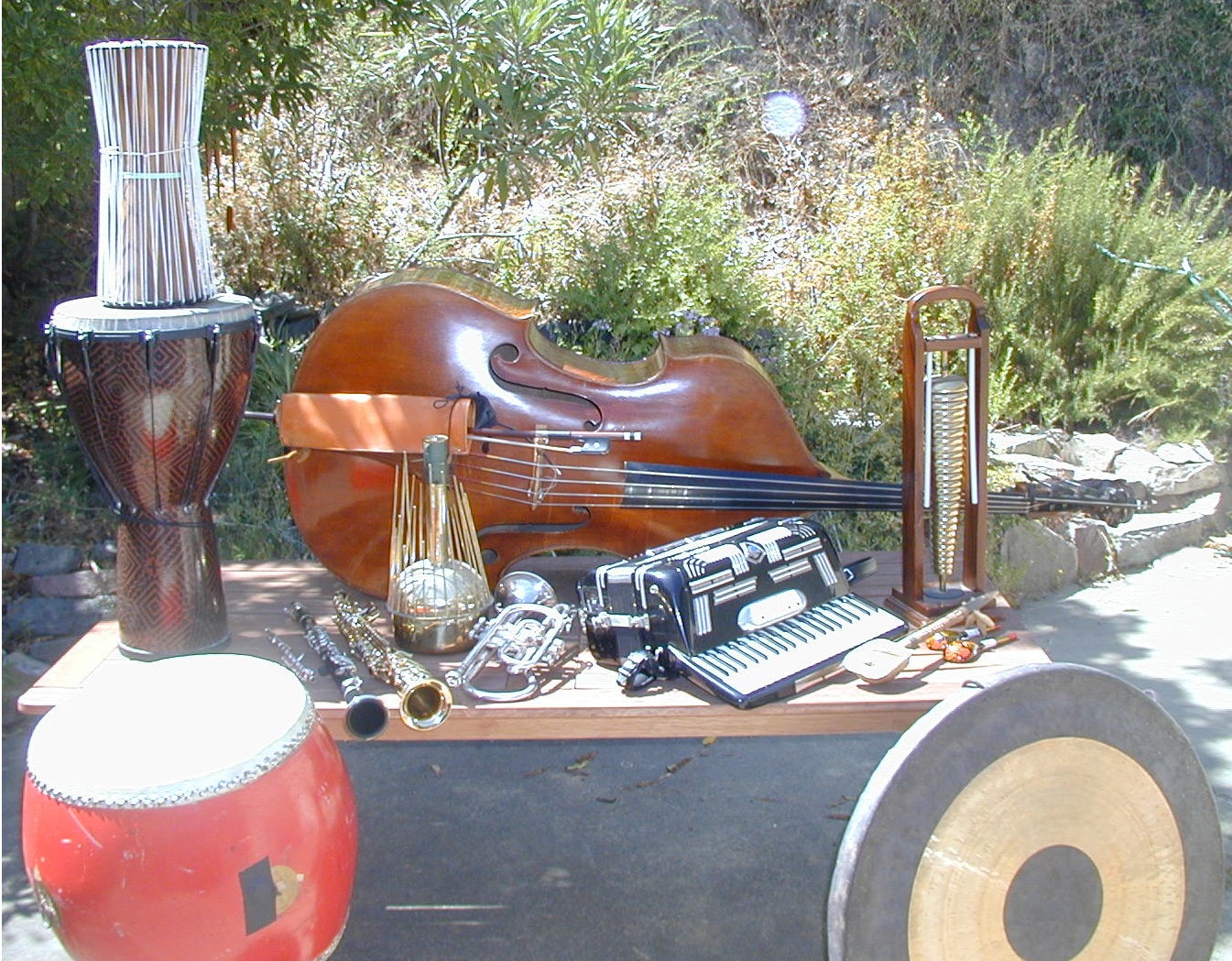 Then we jump over to South America and hear some music from the magnificent Astor Piazzolla, the great tango writer. We'll also sample some Choros, some Bossas, some Sambas and other indigenous and uniquely beautiful music from this region. We will demonstrate the basic rhythmic impulses upon which the music is based and take a look at its harmonies and modes. Then we travel up to Cuba and hear some dynamic Afro-Cuban music. Finally we wind up back in America for some jazz and ethnic samples and see a little clearer how many different streams of music come together in our melting-pot. Take a journey through this unique selection of world music played by our expert musicians and tour guides.
Composer and woodwind multi-instrumentalist Sheldon Brown has been a fixture on the Bay Area creative music scene for over twenty years. In addition to leading his own ensemble, Sheldon Brown Group (which features his original jazz compositions), Brown has toured internationally with Cuban pianist Omar Sosa and collaborates with many Bay Area creative musicians such as Paul McCandless (Oregon), Ben Goldberg, and Beth Custer. He is currently performing with Mitch Marcus Quintet + 13, Realistic Orchestra (led by Adam Theis), Hemispheres (Paul McCandless, Ian Dogle and Bill Douglass), Graham Connah and Oakland Opera Theatre. His compositions and playing have been featured in Clubfoot Orchestra's scores to numerous silent films and the cartoon series "The Twisted Tales of Felix the Cat", which aired on CBS in 1995.
Randy Keith is Principal Bassist of the Santa Rosa Symphony, Assistant Principal Bass with the Modesto and Fresno Orchestras, and Section Bass with the Oakland Symphony. He has performed with the San Francisco Ballet, Chanticleer Men's Choir, Marin, San Jose and California Symphonies. Randy is also the leader of the Santa Rosa Symphony String Quintet, which performs in schools throughout the entire bay area. He has been involved with the production of many recordings, most recently with his jazz group, The Dmitry Greenberg Trio. Randy has participated in the Mendocino Music Festival, the National Orchestral Institute, the Midsummer Mozart Festival, and the Carmel Bach, Coos Bay, and Redwood Music Festivals. He earned his Bachelor of Music degree from the San Francisco Conservatory of Music and has studied with S. Charles Siani, Steve Tramontozzi and most recently, Joe Lescher (Principal Bass of the S.F. Opera).
Allen Biggs is Principal Percussionist with the Santa Rosa Symphony. He also performs with other Bay Area groups, such as San Francisco Opera, and the California and Marin symphonies. The list of touring Broadway productions he has worked with includes: Caroline or Change, Evita, Fosse, Hairspray, Les Miserables, Little Shop of Horrors, and Mamma Mia. He has done several National tours with Western Opera Theater, and two European tours with Phantom of the Opera. A recording he made with the group Chanticleer won two Grammy awards in 2002. Allen is an active educator, leading the popular Bucket-Brigade drumming program in Marin county and two steel pan programs.
Agir Aydin Zeybek- Greek Clarinet
A Joaquin
Baker Mulligan Tune
Balkan In 1 5
Blue Rondo A La Turk
Certeza
Diatchovo Horo
Doug Intro
Doug Intro 2
Finnish Tango
Indian
Joc Doina
Joc Oriental
Jove Male Mome
Karelovska
Kiremit Bacalari
Kiremit Bacalari 2
Krivo
Melonga Del Angel
Mussorgsky
Mysterioso
Nevrus Turku
Nuages
Piazzola
Running Shadows
Ruthenian Kolomejka- Bartok
Sheldon Intro
Click here for Doug Morton's music bio.
Contact Doug Morton for further information.